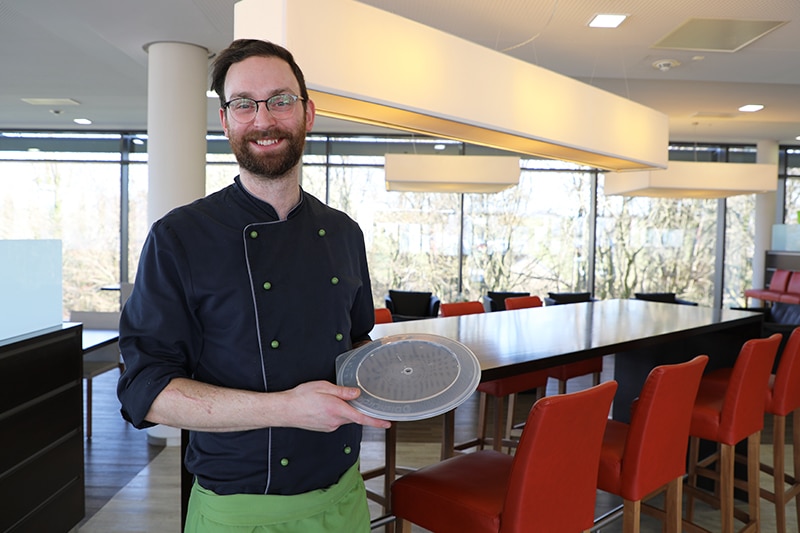 The IMS company restaurant Isotop's Inn is a popular place to go every day for many of our colleagues. No wonder, because in addition to the beautiful, bright and spacious ambience in the restaurant, the remarkably good food also attracts them. According to the saying "food is also a feast for the eyes", the varied and creatively prepared dishes are always appetisingly arranged and served by our chef and his staff with great attention to detail.
Unfortunately, Isotop's Inn also had to close at the beginning of the Corona pandemic. Not only bad news for our restaurant team, but also for our other colleagues who were unable to work from home. So it was all the more pleasing for everyone that from the summer of last year it was once again possible to take meals away for consumption elsewhere – entirely in line with the Corona regulations – in disposable dishes provided by the restaurant.
This measure to protect our health unfortunately also went hand in hand with a fair amount of plastic waste, which did not fit in at all with the efforts of IMS to actively protect the environment. Here, too, the Isotop Inn's team reacted promptly: without further ado, the plastic dishes were replaced by a compostable alternative. Actually a good idea, but only effective if the compostable dishes can also be disposed of separately as organic waste, and even then it still remains rubbish.
Our chef and his team reacted to this new problem immediately and in the interest of the environment. Fortunately, the constantly changing Corona regulations have in the meantime again allowed meals to be served to-go in reusable dishes. Since then, food from Isotope's Inn can only be taken away in reusable boxes. Either you bring your own cans or borrow them spontaneously from our restaurant team for a fee that guarantees their return. And this not only works well, but is also gratefully appreciated by our colleagues. Because between us: it is wonderfully practical to please your loved ones at home with such fresh, balanced and varied meals and not have to cook yourself. A real win-win situation, therefore.
By the way, our great restaurant team not only received excellent ratings in an internal IMS survey on food and service, but is already planning the next optimisations for even more food variety, origin and freshness for the balanced nourishment of our team.